Go on the Waiting List – yes please!
Exciting news! We are launching the Dating and Flirting Immersive Event.
Perfect for Singles, but even if you are not currently looking, the skills you learn in this powerful event can be utilised in any area of your life – work and play.
In this powerful immersive training you will learn how to be SUPER CONFIDENT, how to use your FEMININE POWER to get what you desire and how to open your channels to attract your romantic partner who is on your FREQUENCY.
This event will sell out FAST. Once it goes live, all places will be gone
Click here WAITING LISTfor this exclusive event.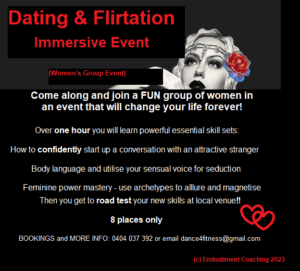 Click here WAITING LIST
Dance 4 Fitness Subscribers you will get exclusive first preference
DATING & FLIRTING Immersive Event
What's included:
Over one hour you will learn powerful essential skill sets:
How to confidently start up a conversation with an attractive stranger
Body language and use your sensual voice for seduction
Feminine power mastery, learn how to use archetypes for magnetising and allure
Then you get to road test your new skills at local venues
Duration of entire event:
7.00 pm till 9.30 pm 2.5 hours
8 places only – this will sell out
Click here WAITING LIST
Dance 4 Fitness Subscribers you will get exclusive first preference
____________________________________________________________
Click here WAITING LIST
Dance 4 Fitness Subscribers you will get exclusive first preference